Honeycomb Hives, Hexagonal Beehives, Fold-Hives, Hybrid Hives and Beekeeping Accessories.
About Honeycomb Hives
                         The Start of Our Journey                          
"Every journey begins with a single step"   Lao Tzu


What started as a single idea morphed into something else altogether.  Inspiration for a new beehive evolved to an integrated system.

Langstroth, Warre, Layens and other hive systems all have strengths, but we think there is ample room for smart improvements to conventional practices.  We're proof that beekeeping systems can benefit from some re-imagining. 

First is ratio of available comb to hive space.  Second is amount of disturbance typical during hive inspections. Third is the dizzying complexity of hive box sizes, foundation, frames, parts and accessories.  Fourth, the questionable practice of re-purposing wax.  Fifth, possibilities technology can help improve beekeeping. 
Obvious Growing Need  We're all increasingly aware that our honey bees are seriously challenged.   Facts about honey bee losses and headwinds they face are alarming !  Between Varroa mites, Colony Collapse, extreme weather and rampant pesticides, the odds are staggeringly stacked against the honey bees.
Everyone seems to want to help, but nature needs far more from us than cute SAVE THE BEES Campaigns.     
  Purpose Driven Design   Our intentions are to help make beekeeping easier, more fun, more attractive and more profitable. Importantly, that means revisiting some assumptions currently taken for granted.  Like rectangular boxes. Or the practice of recycling wax into foundation. We are driven to innovate healthier environments for honey bees. We're also excited to introduce ways to help beekeepers make more money.  Like our comb honey harvesting system. We think happier beeks will raise even more honey bees. 
Our primary focus is on long-tailed eco-environmental consequences.  We're all in to help the honey bees regain their normal six week lifespan (recently truncated by serious environmental challenges).  


What outcomes are we striving for?
We're challenging how beekeeping is done. We have a more sustainable hive system for bees and beeks and we want to "change the landscape" with it.  That's a tall order!

We're onto something big,  but we need your help to make it happen.  Sign up to learn more.  Discover our vision and progress.  Challenge our thinking. Contribute your feedback.   We really want you to help us get this right!


How Can You Help?  There are numerous ways:  Donate. Cheer us on. Tell your friends and fellow beeks about us.  Help us Spread the word.  Like, Follow, Share, Link, etc.  Seriously, it all helps!  And we will love you just as much! 
Sign Up to Join our Journey.  You'll receive updates and special offers only available to Honeycomb Hive followers. You'll be in on the ground floor with the inside scoop before the public knows. You also get first dibs on specials and receive notice when sales of prototypes are available.



Discover our Vision and Progress.  Find out the why, what, where, when and who.  Review the facts and reasoning behind our design decisions.  Check out compelling statistical evidence about what helps and what hurts honey bees.



Challenge our Thinking.   Maybe you disagree or have some different ideas.  Perhaps we missed something or you suggest that we consider another way of looking at things.  We value and need your candid, experienced perspective.



Contribute your Feedback.  This is about gathering like-minded people together to exchange ideas.  We're building a community with a purpose. We need passion, suggestions, encouragement, support & even criticism.



Volunteer for Bee Tasks.  Maybe you love to research.  We too have more questions than answers!  Perhaps you love social media and can help grow our community?  Are you into analysis? Like blogging? Know some important beeks?   Let's talk!



Greetings Fellow Beekeepers,
Welcome.  Glad you stopped by and hope you enjoy your visit.  Lots of new information is being added, so please also check back in.  And, If you have questions, feel free to tag us.  We're happy to help.


The Backstory:

About five years ago, after experiencing sub-standard results from standard bee boxes, I decided to tackle designing alternatives. I especially wanted to try to address perennial issues of heat loss, condensation and ventilation to try to improve the odds of our honey bee colonies overwintering.


When wearing my designer craftsman hat, the adage "form follows function" guided my decision to adopt vertically-oriented hexagon shape for my hives. 
Adopting vertically-oriented hexagonal shapes quickly became an obsession for me that begat numerous iterative bee box variations.


The hexagonal prism-shaped beekeeping system that resulted is inspired by the absolute brilliance of bee math and the vertical orientation of hexagonal cells by honey bees in their magical honeycomb queendom. 


Honeycomb Hives is the brand for my new integrative beekeeping system. 
In addition to the obvious eye-candy factor, recognition that the shape of the interior cavity can significantly alter air movement tipped the scales for me.  
The vertical hexagonal-shaped interior space, combined with the bees added heat, creates ideal conditions for continuous circulatory air flow. When its cold outside, warm moist air rising against the gabled roof, flowing down the sides and sloped bottoms as it cools, then back up again, furthers air movement in a circulatory manner. That natural air movement helps manage condensation and eliminate cold corners or dead air spaces.


The efficient thermodynamics of vertically-oriented, prismatic-shaped spaces encourages Venturi air circulation wherein rising bee-heated warm moist air carries excess humidity out of the hive via vents in the underside of the roof.  
This natural air movement also helps manage condensation and deter mold.
Most importantly, these hexagonal hives address the primary goal of providing improved environments for sustainable overwintering of honey bee colonies.
  
My primary design efforts are to help honey bees stay warmer and drier and spend less energy keeping their cluster at 94F, year-round.
 
Honeycomb Hives, Inc. is a US-based startup that aims to change the shape of beehives in garden, backyard and urban apiaries, worldwide, offering a game-changing, affordable beekeeping system for more precisely keeping bees and harvesting natural comb honey.
Meet Doug Lambrecht   Doug is a NC mountain farmer who decided to personally tackle some of the pithier challenges honey bees face.  He spent the past four years tweaking and bee testing new beehive prototypes. While objectives and principles guiding his designs are primarily bee-centric,  making beekeeping more attractive and approachable are also included. Doug is committed to find or innovate ways to make beekeeping easier, more sustainable, more fun and more profitable.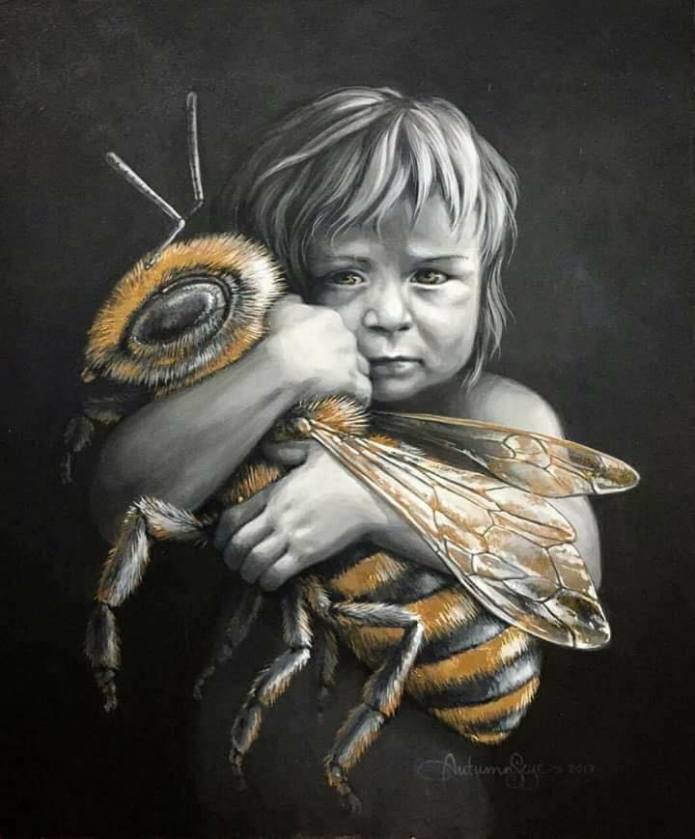 "The world desperately needs more informed, well-equipped beekeepers to take up the enjoyable practice of responsible husbandry of honey bees"   Doug Lambrecht
I retired last year from thirty years as an investment adviser to devote my full time and attention to helping honey bees and beekeepers find or innovate ways to extend honey bee colony life spans. Serving honey bees and beekeepers is my ikigai. It gets me up early and inspires me. That, and encouragement from my clan, keeps me fully amped.
My work experience and combined skill sets are almost eerily aligned for this project.  In early adulthood I spent 15 years as a furniture designer/craftsman with distribution in 11 states.  I've also founded seven start-up companies, including several retail operations, two manufacturing firms, two Registered Investment Advisory firms (One sold to Suntrust) and an organic specialty foods distributor called Real Wasabi, with nationwide placements with Fresh Markets, Wegmans, Whole Foods, Kroger, Costco and others. (more at realwasabi.com)

As an organic farmer raising vegetables, wasabi, mushrooms, berries, and a mixed orchard of fruit trees, I am fortunate to live in close touch with nature. After noticing a decline in pollinators on our farm some years back, I began beekeeping.  After a couple of frustrating seasons, I decided there must be a better way to keep bees than stacks of heavy boxes. I've since invented a new beekeeping system and spent five years bee-testing and refining it. 

Whether you are beginner, hobbyist, side-liner or serious commercial, we welcome your feedback as it tremendously informs our journey and stimulates our thinking.  Most importantly, please tell us about yourself, what brought you here and your interest in beekeeping and how Honeycomb Hives might help.
We would love to hear from you so please share with us thoughts, feedback or questions below: 
and please know WE RESPECT YOUR PRIVACY